Cllr Diane Williamson – CromptonWard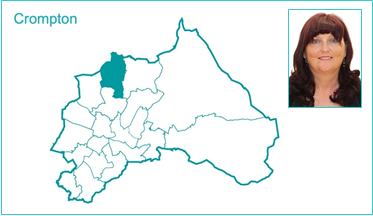 MY WARDPRIORITIES
· protecting the environment and the greenbelt
· improving our highways and footpaths
· improving health facilities
· tackling the menace of dog fouling and litter

Work in thecommunity
Shaw and Cromptonis a special place and you've welcomed me as a fellow resident and as a Borough and Parish Councillor.
I have been listening to residents – despite COVID-19 – and previously my team and I have knocked on thousands of doors, speaking to you about your issues and concerns. The key priorities that come up are:
· protecting the environment and the greenbelt
· improving our highways and footpaths
· improving health facilities
· tackling the menace of dog fouling and litter
During this global pandemic, and the three national lockdowns, it has been a pleasure and a delight to speak to many of you, when I rang you just to check in and see whether you needed any assistance.
I'm realistic in what I can deliver. There is still so much more to be done and if re-elected, I will continue to demand better for High Crompton, Shaw and Royton. I pledge to listen and, with your support, will continue to be your true voice on Oldham council. Together we can achieve more.
PS. Don't let COVID-19 steal your vote – you can apply for a postal vote and still hand it in at the polling station on 6 May
Agent:Dave Murphy, Unit 18 Booth House, Featherstall Road, Oldham OL9 7TU
Area:High Crompton, Shaw and Royton