Cllr Diane Williamson – CromptonWard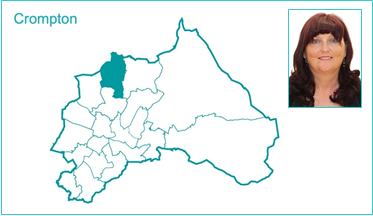 MY WARDPRIORITIES
· Demanding better for Crompton New Health Centre for Shaw and Crompton
· Protecting Greenbelt and OPOL
· Engaging with residents
· Environmental Issues
· Championing highway and
· footpath issues
· Tackling Dog Fouling

Work in thecommunity
· It has been a very difficult year due to the COVID-19 pandemic. During the last twelve months the District Team, delivering services to the wards of Shaw and Crompton.
· A number of campaigns, which have rolled into one, is the "Love Where You Live" campaign in Crompton ward, has seen over the last 4 years 20,000 dog fouling leaflets hand delivered to every house in the ward (every year). We have banners installed at various locations around the ward, which identifies the different areas of our lovely ward. High Crompton, Crompton and Shaw. Myself and my colleagues have been praised by residents for doing this and want more banners in the inner parts of the ward. We are hoping to extend the campaign to the bins in the ward, which would remind residents to pick up after their dogs with the slogan" Bag It and Bin It".
· Together with my five colleagues in Shaw and Crompton we hold ward surgeries, where members residents can come along and speak me, confidentially, and without interruption about sometimes their very personal issues which they cannot put into an email.
· I continue, along with my colleagues are campaigning for a new Health Centre in Shaw for the people of Shaw and Crompton. I have written to both GP Practices in Crompton Health Centre, requesting a meeting to discuss what they envisage for a new Health Centre and whether they want to be part of this fantastic journey when it comes to fruition. We now getting ever closer.
· I have had meetings with partners:
· Highways Officers – to explain what roads are the ones that need doing for example the ones the residents keep telling us about
· Member of Hopwood Trust appointed by the Council – continue to support them with their fundraising events and attend their meetings, plus general support for Crompton Cricket, Crompton Bowling Clubs, and Crompton Football Club – where we have used our ward budget to purchased football kits with the message 'Love Crompton' to inspire the next generation of young people to 'Love Where They Live'.
There are a number of events and groups which happen in Shaw and Crompton and I am pleased to support these through funding or time:
· Shaw and Crompton Events Group who host the Christmas Lights Event in Shaw town centre
· Two Homewatch Schemes
· St George's Day event
· High Crompton Park Friends Group
We again remembered on Holocaust Memorial Day, where we had a service at Crompton War Memorial, with Farrowdale House Preparatory School, Crompton Primary School, Royton & Crompton School.
· We are looking at upgrading the lights on the Big Lamp Roundabout, so we can celebrate the nation's saints and other events like Holocaust Memorial Day and St David's Day.
· I have also made sure that Crompton ward puts in bids to the new Local Improvement Fund. This is the fund where wards can bid in for large projects rather than have their own funds. We were unsuccessful this year but we will try again in the next round.
As a Crompton Councillor I am proud to represent this lovely part of Oldham and I continue to work hard, all year round.