Cllr Dave Murphy – CromptonWard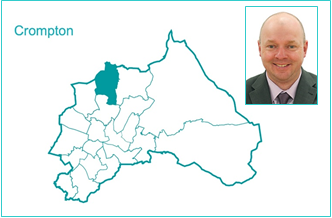 MY WARD PRIORITIES
· Supporting residents through Covid-19
· Listening to residents
· Environmental Issues
· Championing highway and footpath issues
· Protecting Greenbelt and OPOL
· New Health Centre for Shaw and Crompton
· Demanding better for Crompton
· Working all year round not just at Election time.
· Highway improvements which includes footpaths and safety
· Tackling Dog Fouling
Your Crompton Liberal Democrat Councillors again would like to say a massive thanks to our NHS, Key workers, and the whole Community for continuing to do your bit during COVID-19. We are far from out of the woods yet and its definitely not business as usual, but we have been inspired by the resilience of the community.
During COVID-19 work still carries on for your local Liberal Democrat councillors Diane Williamson, Dave Murphy, and Louie Hamblett.
Issues for the community have taken on a whole new dynamic as we start to having to live with COVID-19.
Residents continue to contact us with issues but it's definitely not business as usual as we look to do what we can to help which I have found very frustrating.
We continue to door making sure residents are ok and to make sure they are safe and well and have we support local businesses are they start to get back on their feet.
For COVID-19 support please contact 0161 770 7007
Work in the community
· Demanding better for Crompton.
· Working with our fantastic Royton, Shaw and Crompton District Team to deliver services and aspirations to Shaw and Crompton wards.
· Working with Oldham Council's amazing staff from, Chief Executive, Directors and Officers to deliver services for Crompton. Thank you for all your hard work I really appreciate everything each and every one does to make sure Crompton and Oldham is a great place to live, work and enjoy ??
· Knocking on doors all year round not just at election time.
· Updates on Twitter
· Working with partners such as First Choice Homes Oldham and Greater Manchester Police.
· Worked alongside ward colleagues to bring together the "Love Where You Live" campaign – which aims to tackle dog fouling, litter and fly tipping whilst bring a sense of pride to the area.
· Attended all Full Oldham Council meetings and online meetings have asked questions, made observations, and asked questions on minutes as well as submitted motions to influence policy and procedures.
· I understand Shaw and Crompton are the only wards that continue with holding face to face ward surgeries, organised every week, on a rota basis with my five ward colleagues – this allows me to listen to residents' concerns personally, rather than them trying to put it in an email.
· I am the Shadow Cabinet Member for Neighbourhoods, which I really enjoy as it gives me the opportunity to hold to administration to account whilst also offering other alternatives.
· Continue to campaign to get a Health Centre for the residents of Shaw and Crompton. Which looks to have taken a giant leap forward.
· Continuing to sort local environmental issues such as dog fouling, litter, and fly tipping.
· Continue to raise concerns about the state of the roads and working to fix potholes, surface erosion and making sure poor roads are part of a programmed works plan for replacement or treatment. 3x problematic roads have been fixed, Rochdale Road, The Link and Low Crompton Road as well as several other roads in Royton, Shaw and Crompton.
· Supporting community groups.
· Member of Hopwood Trust appointed by the Council.
· Attended the Holocaust Remembrance Service at Crompton War Memorial and spoke at the service.
· Support the High Crompton Park Friends together we have achieved a trim trail.
· My colleagues are actively look at locations for more AEDs (heart start equipment) in the ward of Crompton.
· Working with the Royal British Legion, Events Group and Shaw & Crompton Parish Council to project poppies on Crompton War Memorial.
· Continue to support local residents by providing a refill for the grit bins that we have bought them, when the area does not meet the Council's criteria
· Safeguarding land as well as saving Council money by introducing Wildflower Meadow Schemes at sites in Crompton ward.
· Working with Council Officers to safeguard a car park in High Crompton to ensure resident continue to have free parking.
· Continue to support the Home watch schemes in Crompton, I continue to work with my colleague Cllr Williamson and Louie Hamblett where we have an established group.
· Provided Home watch safety and security advice delivered to every house in Crompton.
· A Christmas Tree personally funded by Diane, Louie and me delivered to Hopwood Court.
· Provide a regular Focus Newsletter letting residents know what local Councillors are up to which includes a free post comments section.
· Support the Children's Champion Scheme and still have a young person under my wing.
· Continue with the project of Love Where You Live banners showing the message of no dog fouling and no litter fitted to columns at gateways such as Shaw Road at various locations in Crompton.
· Continue with a project in Crompton working with partners such as United Utilities, Environment Agency, and Oldham Council Officers – also cross party working with colleagues in Royton North and Royton South. Which is near completion.
· Supporting residents close to the new second entrance following planning approval at Crompton Gate.
· Working with faith organisations such as Holy Trinity Church and St Paul's Methodist Church.
· Working with Holy Trinity Church with the outcome to get the clock operational.
· Getting commitments by Oldham Council that problematic roads are to be resurfaced.
· Replacement of streets signs that do not meet the Councils criteria, but we believe leaving them as they are make the ward look uncared for. We have a massive project planned around Denbigh Drive, Dorset Ave, Bedford and Surrey Ave.
· Supporting residents on Denbigh Drive with guidance on consultation and an upcoming planning application.
· We have supported residents around Greencroft Meadow to make sure their voices are heard. We will continue to find a solution at the problematic Cocker Mill Lane/ Shaw Road junction.
· Fund outreach work for young people at various location including Crompton Bowling Club.
· We have found a long-term solution to a problematic footpath between Surrey Avenue and Netherhouse Road which has now been completed.
· Continue to report faulty Street Lighting columns.
· Supported residents through an unwanted planning application for a change of use to hot food takeaway. Over 1000 letters were delivered explaining how to make residents voices heard and how to submit comments.
· Double Yellow lines about to be installed at Wood Street/ Salisbury Street and Rushcroft Road following concerns about visibility.
· Double Yellow Lines at the junction of Wood Street/Salisbury Street and when residents complained guided them through the process so their voices could be heard at the panel where the ultimate decision will be made. Councillors spoke in support of the scheme at the TRO meeting.
· Changes in bus services continue to be a problem for residents in Crompton we continue to work with TfGM to find solutions to make the best of a bad situation.
· Lancashire Day was on 27 November 2021 and this year the Lancashire flag was flown in High Crompton Park.
· We have ensured our young people have something to do in the school holidays by funding activities throughout Shaw and Crompton.
· Shaw and Crompton Councillors met with the Accountable Officer from the Clinical Commissioning Group (NHS) to raise concerns over the GP Practices in Royton and Crompton Health Centre and the services they provide. We have chased the progress of the New Health Centre in Shaw.
Contact me
E: dave.murphy@oldham.gov.uk
T: 01706 840056
M: 07894 598250
Twitter@CllrDaveMurphy
Surgeries
Held every Thursday 7.30-8.30 at the Lifelong Learning Centre (no appointment necessary)