Cllr Colin McLaren – Chadderton Central Ward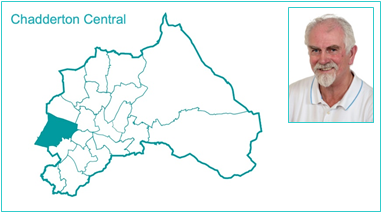 MY WARD PRIORITIES
· Promoting Health and Wellbeing
· Community Safety
· Preserving our Heritage

Work in thecommunity
· Member of Chadderton District Executive
· Chair or Overview and Scrutiny Management Board, Vice Chair of Health Scrutiny Committee, Member of Licensing Committee, Member of GMCA Audit Committee, Member of GMCA Corporate Issues and Reform Scrutiny Committee, Member of Peak District National Park Authority, Trustee of Chadderton Together, Director of Chadderton Together (2019) Ltd, Director of Chadderton Building Preservation Trust Ltd, Member of Chadderton Community Benefit Society, Trustee of Crossley Community Association, Trustee of Peak District National Park Foundation, Vice President of Chadderton Historical and Heritage Society, Governor of The Radclyffe School, Trustee of Moston and District Sports and Youth Club.
· Continued to support various voluntary groups and organisations working to access the grant system to fund activities within the local community.
· Regular attendance at Oldham Council and Committee meetings.
· Continued to work with Oldham Council Officers and Greater Manchester Police to tackle anti social behaviour at Foxdenton Park and other locations leading to a reported reduction of incidents.
· Continued to work with individual residents and community groups on issues relating to Foxdenton Hall and Park, Agnes Robinson Pocket Park and the Crossley Estate.
· Supported individual residents on various issues including environmental matters, housing, road safety, council tax and parking issues.
· Held surgeries each month at the Crossley Community centre, Mills Hill Primary School or Kingfisher Community Special School until March 2020.
· Since March 2020, the Council has been at the forefront in responding to the Covid 19 pandemic including distributing emergency food, providing vital social care, running test centres and now rolling out the vaccine. All meetings have been held virtually and accessed by telephone or laptop. I have undertaken training on using this technology so that I could continue to represent the ward during this difficult time. Although it has been difficult to get out and about on occasions, I have still been available by email or telephone for anyone to contact if they had any problems with which they required assistance. I have kept in touch with community groups as much as possible but look forward to becoming more visibly active in the area again when the restrictions are finally lifted.