Cllr Eddie Moores – Chadderton Central Ward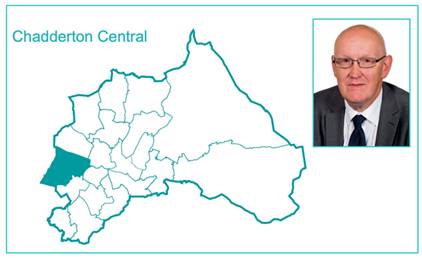 MY WARD PRIORITIES
· Roadsafety
· Education/Training
· The environment
· Public Safety

Work in the community
· Cabinet Member - Children and Young People.
· Member - Health & Wellbeing Board, Commissioning Partnership Board & Regional Adoption Panel.
· Chair - Corporate Parenting Panel.
· Chair – Early Years Partnership.
· Governor - Mill Hill CPS (Chair), Blue Coat School (Chair), Radclyffe School & Christie Hospital Foundation Trust.
· Trustee – Oldham Enterprise Trust, Cranmer Education Trust, Henshaw Education Trust & Chadderton Together.
· 100% attendance at Oldham Councilmeetings
· Attended training on "Safeguarding","Casework & Advocacy Skills" amongst otherthings
· Workedwith Oldham Foodbank delivering food packages during the COVID-19 pandemic.
· Communicated with residents and officers by telephone, email and Mircosoft Teams during COVID-19 pandemic to tackle a range of problems
CONTACT ME
M: 07764621491
SURGERIES
Face to face Ward Surgeries are cancelled due to COVID-19 restrictions. Please contact me by phone or email for any issues or problems.