Cllr Eddie Moores – Chadderton
Central Ward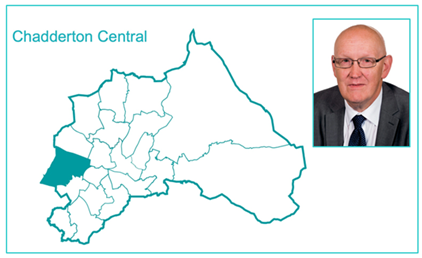 MY WARD PRIORITIES
• Promoting health and wellbeing
• Improving Community Safety
• Preserving Local Heritage
Work in the community
· Cabinet Member – Children, Young People and Early Years
· Member - Health & Wellbeing Board, Commissioning Board & Regional Adoption Panel, Oldham Health & Care System Board, Oldham Safeguarding Children Partnership.
· Chair - Corporate Parenting Panel. Chair – Early Years Partnership. Co-Chair Children's Alliance.
· Governor - Mills Hill CPS (Chair), Blue Coat School (Chair), Radclyffe School & Christie Hospital Foundation Trust.
· Trustee – Oldham Enterprise Trust, Cranmer Education Trust, Henshaw Education Trust & Chadderton Together.
· Organising and taking part in litter picks.
· 100% attendance at Oldham Council meetings.
· Worked with Oldham Foodbank delivering food packages.
· Communicated with residents and officers by telephone, email, and Microsoft Teams during COVID-19 pandemic to tackle a range of problems
CONTACT ME
M: 07764621491
SURGERIES
Face to face Ward Surgeries currently take place monthly at the Crossley Centre and alternate months at either Mills Hill School, or Kingfisher School. These arrangements may change at short notice due to COVID-19 restrictions. I can also be contacted by phone or email.