Additional Information
Surgery details
If you have any queries or problems that need to be discussed with your Labour Councillor, please contact: Councillor Barbara Brownridge on Tel: 0161 678 0752 or via email at Barbara.brownridge@oldham.gov.uk
Contact information
Home address:
975 Middleton Road West
Chadderton
Oldham
OL9 0NQ
Phone: 0161 678 0752
Email: CllrB.Brownridge@oldham.gov.uk
Download Barbara Brownridge contact details as VCard
Committee appointments
Appointments to outside bodies
News
Cllr Barbara Brownridge – Chadderton North Ward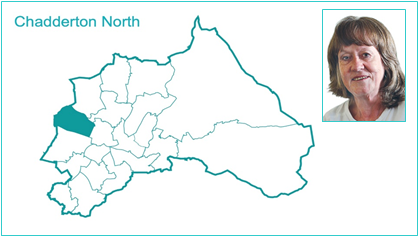 MY WARD PRIORITIES
· Communitysafety
· Post Covid-19 recovery
· Highway safety

Work in thecommunity
The Council has been at the frontline in responding to the Covid19 pandemic; including distributing emergency food and medicine, providing vital social care, running testing centres and now rolling out the vaccine.
Throughout 2020 it also had a huge impact on the way that the Council and Councillors worked.
Instead of attending meetings on your behalf at Oldham Civic Centre, all meetings have been held virtually, accessed via phone or laptop. I have undertaken training on using this technology so that I could continue to represent you throughout this difficult time.
In my ward I have had to scale back the amount of work I can do in the community due to not being able to get out and about, but I have been able to deal with case work via email and phone calls.

CONTACT ME
E:barbara.brownridge@oldham.gov.uk
T: 0161 678 0752
SURGERIES
Face to face Ward Surgeries are cancelled due to COVID-19 restrictions. Please contact me by phone or email for any issues or problems.
Elections
More information about this councillor