Cllr Barbara Brownridge – Chadderton North Ward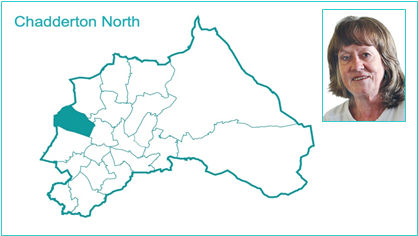 MY WARD PRIORITIES
· Anti-Social Behaviour
· Road Safety

Work in thecommunity
· Member of GM Planning Housing and Environment Overview and Scrutiny Committee
· Member of Oldham Overview and Scrutiny Committee; Planning Committee; TRO Panel; Cultural Partnership Board; Northern Roots Board; Executive Oversight Committee of Co-operative Councils Network
· Trustee Oldham Coliseum
· Chair of Chadderton and Werneth district. Attendance at Chadderton Homewatch when possible full attendance at Council
Due to the pandemic physical meetings have been limited but ward surgeries have now started again at 3pm on Thursday in the Wellbeing Centre. I have been actively involved in the work to establish the New Chadderton Partnership which will be instrumental in preparing a local plan for Chadderton.
The three ward councillors were successful in bidding for funds to install traffic calming to the eastern side of Burnley Lane and I have worked with the new Volkswagen garage to secure alley gating on that side of Burnley Lane to prevent fly tipping.
The Chadderton councillors have also succeeded in bidding for money to review the health of the town centre and have recently appointed consultants to undertake an assessment.
I am continuing to work with police and partners to deal with ongoing ASB particularly at St Mark's Court.
I am actively involved with the proposed pilot works to improve pedestrian access and safety on Victoria St and Garforth St and environs
I have secured agreement for traffic calming to be installed in the cemetery to address persistent problems of speeding.
Following the clean-up of the ward as part of the Don't Trash Oldham scheme I have taken part in litter picks in all three Chadderton wards.