Cllr Peter Dean – Waterhead Ward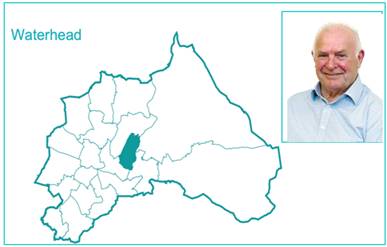 My Ward Priorities
These are based on the Covid
situation at the present time.
· To support residents, community organisations and workplaces to
· recover from Covid.
· To build on the cleaner street scheme, by creating a better environment.
· Improve health provision in Local areas
· Provide good quality Council services
· Improve housing in the Ward
· Work with police to reduce crime in Waterhead
Work in the community
It has been my pleasure to work with many organisation and groups in Waterhead. And along with my fellow Councillors we have made resources available for the following –
• Improvements in parks including Waterhead, Arundel St, Bullers Parks
• Work on landscaping scheme on Counthill Road
• Improvements to bridleways and footpaths.
• Support for sporting clubs
• A number of clean ups throughout the Ward
• Work on Community buildings
• Support to organisation during the Covid outbreak including food provisions
• We have also had meetings with many groups to give support to their work
Council Work
I have attended all Council meetings in the last year.
I hold the following positions on the Council
• Chair of the Planning Committee
• Chair of the Standards Committee
• Member of the Audit Committee
Ward work
I have responded to over 600 inquiries in the last year from constituents and visited and spoke to many residents, groups, and organisations, to resolve issues and get people's views.
I hold a Ward clinic on the first Saturday of each month at venues throughout the Ward.
I am always available by phone or email to help and advise residents.
Targets for this year
* To build services in health, social care, education, and general Council services following Covid to a better improved and integrated standard.
* To work with residents and Council on cleaner streets and the environment.
* To improve educational opportunities for our young people.
* To create better paid jobs that are available for all.
Contact me
M: 07718785134
H: 01616525866
Surgeries
Face to face Ward Surgeries are cancelled due to COVID-19 restrictions. Please contact me by phone or email for any issues or problems.