Cllr Graham Sheldon – Saddleworth South Ward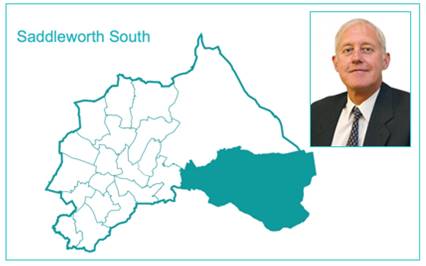 My Ward Priorities
· Pressing for a new medical facility
· for Saddleworth
· Protecting green spaces/green belt
· Improving footpaths
· Keeping the streets free from litter
· and fly tipping
· Supporting RSPB and United
· Utilities at Dovestones
· Improving safety on our roads
· Supporting businesses coming out
· of Lockdown
Training completed
· Safeguarding
· Corporate Parenting Members session
· Barnardo's training session
· Environmental Services
· GDPR
Work in the community
· Conservative Ward Councillor for Saddleworth South.
· Leader of the opposition Group Conservative Party - Oldham MBC. This includes providing leadership and advice to members of the Group.
· Economic and Social Reform shadow cabinet member.
· Member of the Appointments Committee.
· Campaigning for a new medical facility for Saddleworth.
· Liaising with various Council Departments on behalf of residents.
· Continuing work to protect green spaces and green belt.
· Committed to improving footpaths.
· Ongoing work to ensure streets are clean and free of litter and fly tipping.
· Supporting RSPB and United Utilities to keep Dovestones Reservoir safe and an open space for people to enjoy.
· Improving safety on our roads and supporting speed cameras.
·
Supporting businesses coming out of Lockdown.
Contact Me
T: 01457 513236
Email: Cllr.g.sheldon@oldham.gov.uk