Cllr Mohon Ali – Chadderton North Ward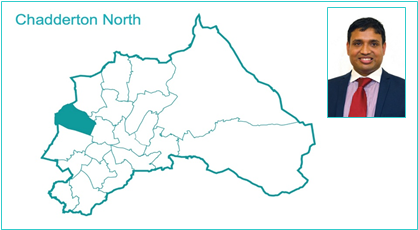 MY WARDPRIORITIES
· RoadImprovements
· Clean Streets
· Safe Environment

Work in thecommunity
· Improved road safety at Burnley Lane from Elk Mill Roundabout to Mills Hill train Station. Ward Councillors worked with highway engineers to design a road scheme that improves driver behaviour.
· Secured funding to improve road safety in Burnley Lane, From Elk Mill roundabout to Garforth Street
· Organized community workshops to encourage recycling and arranged trips for younger people to visit recycling facilities to see how it all works.
· Undertook several door knocking sessions to support residents to deal with the Covid Crisis.
· Organized a meeting between a major employer and local people to encourage people to take advantage of opportunities.
· Worked with community groups to transform alleyways into growing hubs.
· Organized several community clean ups in the area and arranged funding of security gates at Laburnum Avenue, Chadderton
· Worked with police to tackle anti-social behaviour in the Chadderton North area.
· Supported and led on several community initiatives to improve Educational Performances, literacy and ensure our Children are school ready from an early age.
· Developed and supported several community organizations, helping them grow and become self-sufficient.
· Held surgeries each month at Chadderton Wellbeing Centre, meeting residents to tackle a range of problems.