Cllr Shoab Akhtar – Werneth Ward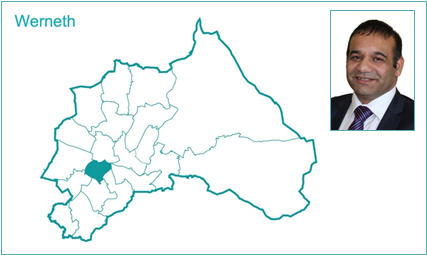 MY WARD PRIORITIES

Work in thecommunity
· Hartford Mill demolition is almost complete.
· Various roads across the ward have been resurfaced
· Working with ASRA to address issues around phase 1 & 2 of Suthers development.
· Working with residents to address parking issues on Primrose Bank.
· Keepmoat second phase in Primrose Bank and Suthers St is completed just environmental work needs to be completed.
· Don't Trash Oldham campaign to be carried out in Werneth in March .
· Covid door knocking.
· Tudor St pitch surface replacement funding bid has been submitted, however Council contribution is confirmed
Funded the following projects through the Councillor's budget.
· Children's Celebration Appeal
· Coppice United
· Grit Bins - Newport St, St Thomas Circle
· Glodwick Dynamos FC
· Healthy Ageing, Indian Association
· WFCDP - Electricity charges for pitch lights
Participation on outside bodies and partnerships
Details of participation in groups and bodies attended as a representative of the Council;
• Board member of Sixth Form College
• Director of Oldham Enterprise Trust
• Planning Committee
• West District Partnership
• Primrose Community Centre
Achievements as Cabinet Member for Employment and Enterprise
• The Council secured £210,418 for 2021/22 from the Government's Welcome Back Fund to support the safe and successful re-opening of high streets from Covid restrictions
• Free parking from 3pm at the Market Car Park is being introduced to boost footfall later on in the day from the 1st April 2022
• To date a total of £8,293,000 of Additional Restrictions Grant Funding has been spent and approx.. 600 businesses have been supported
• Oldham In Place Partnership (OIPP) secured a share of £8.225m (circa £2m for Oldham) as part of a GM Local Access Partnership bid to Access and Big Society Capital that supports the development of social and co-operative enterprises.
• Get Oldham Working (GOW) secured £3.5m Restart Contract to support citizens back into work currently at 104% of target for entry into employment.
• GOW secured National Careers Service extension offering free information, advice, and guidance.
• JE:TS (Job Entry: Targeted Support) programme continued into 2022 with 246 job starts (110% of target).
• Working Wardrobe project secured through partnership working with Registered Providers of Social Housing – Launch date late March 2022.
• Youth Hub launched October 2022 - targeting support for 19–24-year-old in partnership with Job Centre Plus. Agreement to expand provision with JCP as part of our new Youth Employment programme.
• New Children Looked After engagement programme launched in January 2022 - currently engaged with 52 care leavers, 5 have progressed into employment, apprenticeship, or training.