Cllr Abdul Jabbar – Coldhurst Ward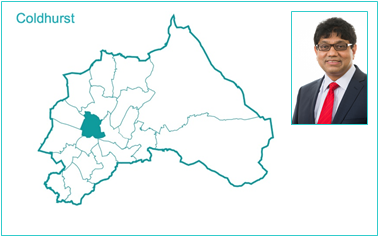 MY WARDPRIORITIES
· Campaigning against littering
· Tackling anti-social behaviour
· Raising awareness of green issues and tackle climate change
· Supporting residents with Covid-19 Grants
· Supporting independent local Businesses
Work in thecommunity
· Secured funding for resurfacing of Highfield Street, Neville Street, Ellen Street, Garforth Street and Martha Street
· Sponsored a local improvement fund bid for creating a pocket park at Martha Street and Ripon Street
· Campaigning to raise awareness of how to stop the spread of Covid-19 including social media and TV broadcasts in different languages
· Campaigning to increase take up of Covid-19 vaccine and a pop-up centre in Coldhurst
· Campaigned strongly against litter dropping in various parts of Coldhurst
· Worked with the Police and other partner agencies to tackle anti-social behaviour in various locations.
· Campaigning to raise awareness on all green issues including using renewable technology to produce clean electricity
· 100% attendance at Oldham Councilmeetings.
· Communicated with residents by telephone, email and Microsoft Teams / Zoom during COVID-19 pandemic to tackle a range of problems.
· Supporting residents in Oldham on grants available during Covid pandemic.
· Secured funding for additional swings at Widdop Street pocket park
· Installed CCTV camera at the corner of Davies Street to prevent flytipping.