Cllr Marie Bashforth – Royton South Ward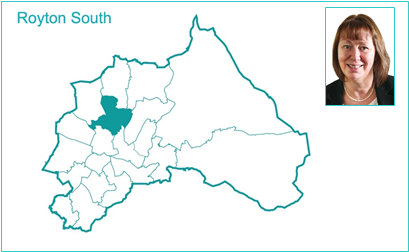 MY WARDPRIORITIES
· We continue to work towards the renovation of Royton Town Hall and the Library. The project is ongoing, and is progressing, to inspire the next phase of the regeneration of Royton Town Centre through the renovation of the Town Hall and creating a brand-new fit for purpose library.
· Work with private and public sector partners to support the growth and development of District Centre and be part of the Mayor's Town Centre Challenge. Growth and development of Royton centre is as always, a priority.
· Building on our unique heritage and working with partners to make Royton a thriving place to live, work and socialise and promoting volunteering opportunities and community organisations so residents can get involved in the community and do their bit.
· Provide opportunities in Royton for residents to take control and improve their own health for example through support to local sports and park clubs. Also, to increase the use of our outdoor spaces.
Work in thecommunity
· Personal Casework directed to me from residents
· Meeting with residents one to one or in larger groups and meetings has not been possible over the past year. So, communication has been mainly by telephone and email.
Along with this work I am also involved in;
· Attending 'Teams' meetings between the staff and owners of a local children's care home and the residents who live close to the home. We arranged these meeting because at one time neighbours of the children's home did have some major issues around anti-social behavior. However, through sustained conversation and listening during these regular meetings and also an understanding with the company involved, and how they intend to use the home going forward, we are now experiencing a much calmer time. Anti-social behavior has lessened greatly and the company are communicating on a weekly basis directly with their close neighbours and local councilors. Some further anti-social behaviour issues occurred during the past year and so a number of 'Teams' meetings were held, to support the residents. The owners of the home are now considering the use of the property going forward.
· Support residents whilst work is taking place in their immediate area due to private land development to ensure all planning criteria is being followed and when this is not happening to ensure we act on their behalf to correct any breaches of the planning conditions put in place.
Work Undertaken in my role of Deputy Cabinet Member for Health and Social Care
The Health and Wellbeing Board
This board comprises of health and social care commissioners and other local leaders such as care providers, housing providers, the police and the community and voluntary sectors who all have a vital role in tackling health inequalities in the borough.
Chairing the Learning Disability Partnership Board – my work as Chair of this Broad continues on the and the meetings have been held regularly via 'Teams' meetings. A lot of positive and valuable work has taken place by council members, council officers, members of the public who use this service and all related partners.
This board brings together a valuable group of people, working to make Oldham a better place to live for people with learning disabilities. Holding to account professional bodies, to account for improving the design and delivery of services for people with learning disabilities. To ensure money is spent on good quality services and to be consulted and involved with regard to plans or changes that will affect everyone with a learning disability or their carers.
Some of the projects and work pathways I have been involved in include;
· Implementation of The Greater Manchester Learning Disability Strategy - To progress implementation of the key commitments of this strategy and to ensure it starts to make a difference to people's lives, all GM localities were asked to work with their local Learning Disability Partnerships Boards to seek active participation and a commitment to action. In addition, a 100-day Challenge was launched to encourage local and GM level organisations to make positive changes to improve the lives of people with learning disabilities, particularly around the area of employment and health.
I have been leading on 'Early Support for Children and Young People' as part of this Strategy – our Actions have been;
· Action 1: Engaging with the published written statement of action in relation to SEND for children and young people following the recent Ofsted/CQC inspection, and subsequent action and implementation plans.
· Action 2: Support the implementation of the Oldham Joint Autism Strategy 2016 - 2019.
· Action 3: Development of a Joint Commissioning Strategy children and adults through CAMHS
· Action 4: Increase take up of health checks - now offered age 14+ joint approach with adults
· Transforming Care Agenda - Transforming Care Approach
· Transforming care is all about improving health and care services so that more people with learning disabilities and/or autism can live in the community, with the right support, close to home and have the same opportunities as anyone else.


· The programme of work will ensure that families are:
-Getting the support they need to live long and healthy lives
-Being treated with the same dignity and respect
-Having a home within their community
-Being able to develop and maintain relationships and getting the support they need to have a healthy, safe and fulfilling life
The Domestic Violence Partnership – These meetings have continued and are carried out via 'Teams' meetings. Tackling domestic violence and abuse is a priority and the purpose of this partnership is to ensure and work towards a coordinated response from all partners including the Police, the MASH Team, Social Services and all voluntary organisations.
These are a selection of the projects I have been involved in over the last two years through meetings and discussions.
· Greater Manchester Domestic Abuse Partnership – Discuss and action any outcomes or feedback from this Partnership.
· Discuss up to date Data and Feedback from MARAC - This a (Multi Agency Risk Assessment Conference) Safeguarding Victims of Domestic Abuse.
· Project Choice This is a project to work with referral of honour-based violence (HBV) victims and to offer support.
Strive Project

-The STRIVE initiative is a partnership with

Greater Manchester Police

. STRIVE is an intensive project which recruits local volunteers to attend homes where the police have attended but no crime has been logged.

The volunteers then support individuals, couples and families, signposting them to further support. This intervention supports local community relationships and ensures people who would potentially not receive any support, have access to the help they need.